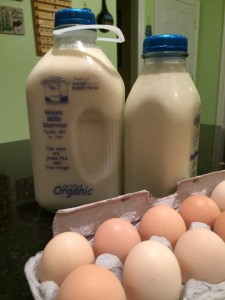 The recipes in this site follow the primary dietary principles of the Weston Price Foundation, based on the landmark studies of brilliant dentist Weston A. Price. The Weston Price Foundation is similar to the more well known Paleo dietary group, but has some distinct differences. See Paleo and Price Diets for more information on this subject. The recipes that will be shared also adhere to kosher dietary principles.
We are currently following a gluten free diet, so many recipes will be gluten free, as well. I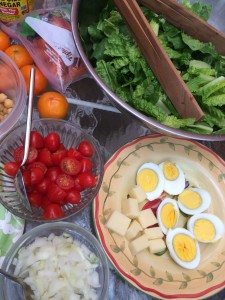 aim for simplicity in cooking, so hopefully most of my recipes will be easy to duplicate. I will give credit to others whenever possible. I tend to borrow from many sources and adapt as desired or needed.
Preparing meals for those you love is one of the most important tasks. Food is so important to health and sharing meals is a time honored tradition in all cultures that is essential to try and bring back in our fast paced society. I have the highest regard for those who take time to prepare healthy, traditional foods for their loved ones and for themselves. To me, it is one of the greatest acts of love and self care. With this in mind, I wish my readers bon apetit and hope you enjoy the recipes I share.
Recipes can be found by checking the recipe category on the home page or by using the search button. You may also click the links below.
Main Meals
Chicken Soup for the Soul, Body and Mind
Delicious Homemade Vegetable Soup
Nutritious and Delicious "Fast Foods"
Simple, delicious crock pot pastured chicken
Traditional, Gluten Free Pasta con Broccoli
Delicious, Simple Seasoned Salmon
Delicious, gluten-free Paleo Shakshuka
Delicious, easy, gluten free, vegetarian lasagna recipe
Sides
Simple Fermented Salsa: A Superfood for Health
Spicy, Pakistani Spinach Potatoes
The Joys and Adventures of Home Brewed Kombucha Tea
Delicious, Healthy and Easy Soaked Nuts
Breakfast
Kefir: The Queen of Fermented Foods
Delicious and Nutritious Deviled Eggs
Desserts
Delicious Gluten Free Prune Hamantashen 
Delicious Grain Free Coconut Macaroon Cookies
Chocolate chip mint meringue cookies
 Delicious, real raw vanilla ice cream
Yummy Mint Chocolate Chip Ice Cream
Home made, gluten free organic apple pie